Cape Classics Blog
The Short on Domaine Paul Buisse
March 5, 2014
In 1989, Paul Buisse purchased over 173 acres of vineyards in an area recognized as one of the best for winegrowing in the Touraine appellation of the Loire Valley. The vineyard's south-southwest exposure and clay limestone soils translate to beautiful, fruit forward wines. Upon his retirement in 2010, Paul Buisse sold the company to his friend, Pierre Chainier, whose family has a long history of working in wine and trade dating back to 1749. Since, the Chainier family have become pioneers in sustainable farming, being the first to employ green practices in the region. Vineyards are maintained according to a sustainable agriculture philosophy with the overall ecosystem in mind. The vision of the Chainiers is to bring knowledge, experience, and a passion for winemaking to the industry, as they embrace the Loire Valley and its unique soils.
Paul Buisse Touraine 2012 is now available in the U.S. Ideal for appetizers, this crisp, fresh Sauvignon Blanc is the perfect wine to open your palate, serving as a great match for soft cheeses, specifically goat cheese which is a specialty of the Loire region, summertime salads, shellfish and seafood.
The Short on Domaine Vincent Carême
February 28, 2014
Situated in the heart of Vouvray, the estate is the mastermind of young and dynamic Vincent Carême, and his wife Tania. Passionate about crafting various styles of Chenin Blanc, Vincent established 37 acres spread over three villages: Vouvray, Vernou-sur-Brenne and Noizay. He firmly believes that the quality of the wine is determined in the vineyard and consequently spends every possible moment tending to his vines with the greatest of care. Harvest is carried out exclusively by hand and performed by an experienced team of pickers. All of Domaine Vincent Carême's wines are certified organic from 2010 onwards by Ecocert in France. His Le Clos and Le Peu Morier wines are now available in the U.S.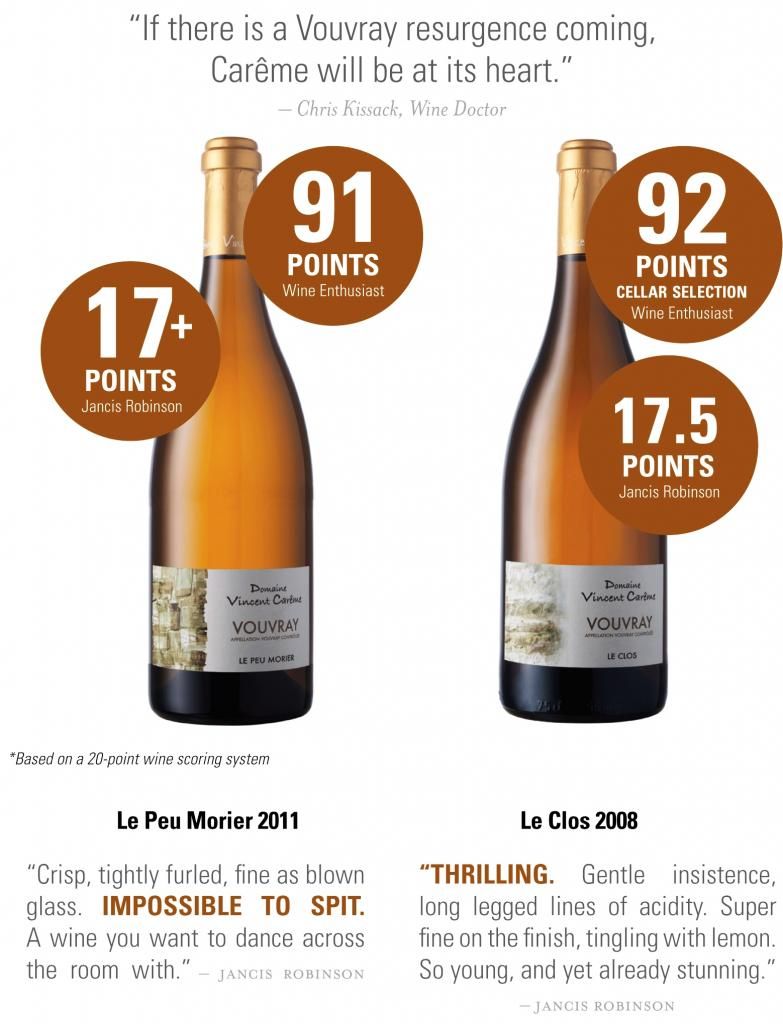 A meticulous Chenin Blanc grower, Vincent Carême's watchful eyes and careful hands have earned his Vouvrays exceptional praise.
Sip the Love
February 14, 2014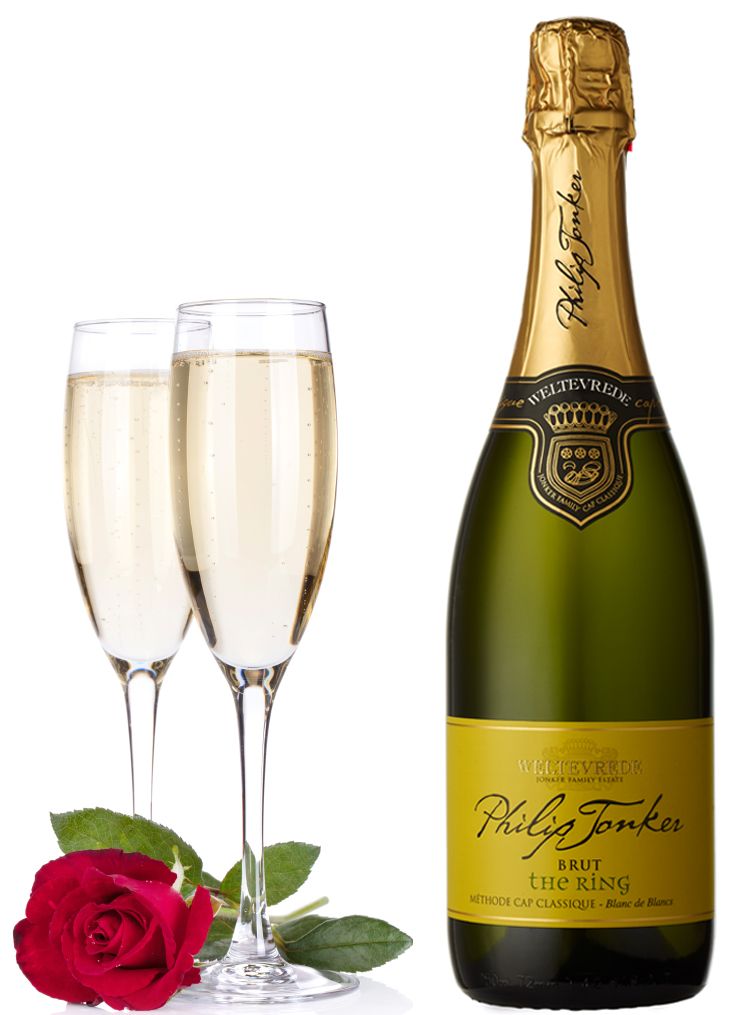 A Charming Sipper
February 6, 2014
Whether a romantic evening with your partner or a casual night with friends, De Morgenzon's DMZ Cabernet Rosé is a spirited sipper to enjoy on Valentine's Day. Made from 100% Cabernet Sauvignon, it's a charming wine that displays aromas and flavors of pomegranate and strawberries, with hints of floral roses.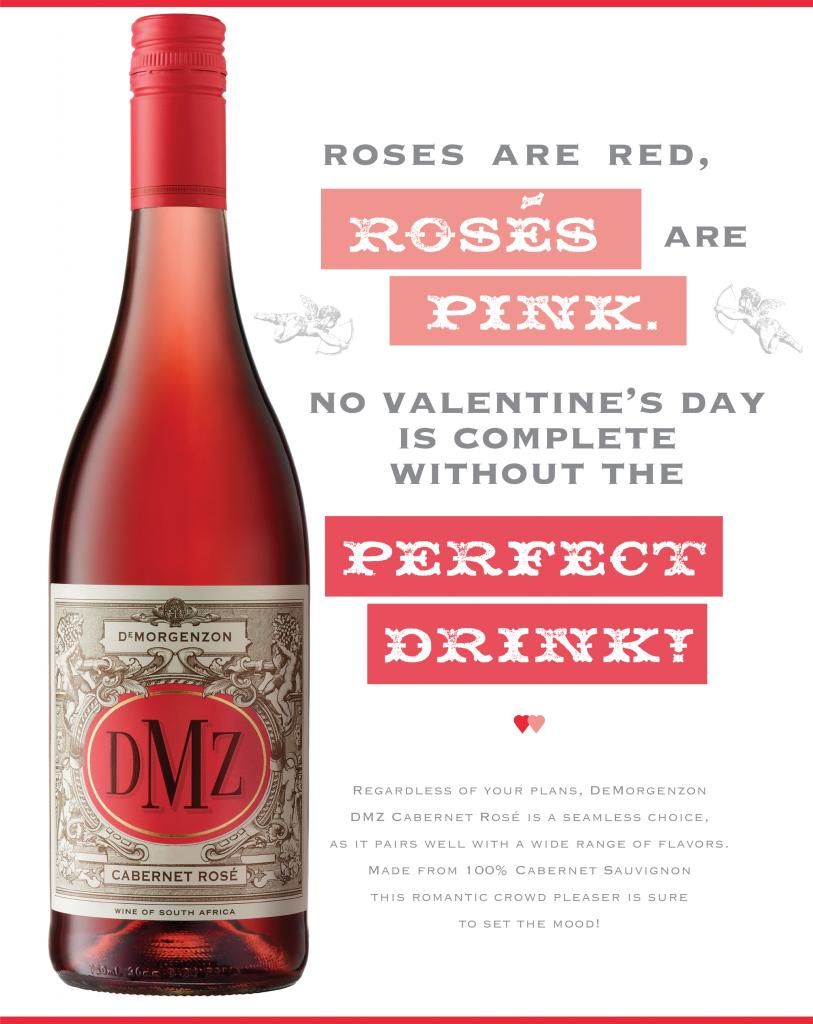 Super Bowl Suggestions
January 30, 2014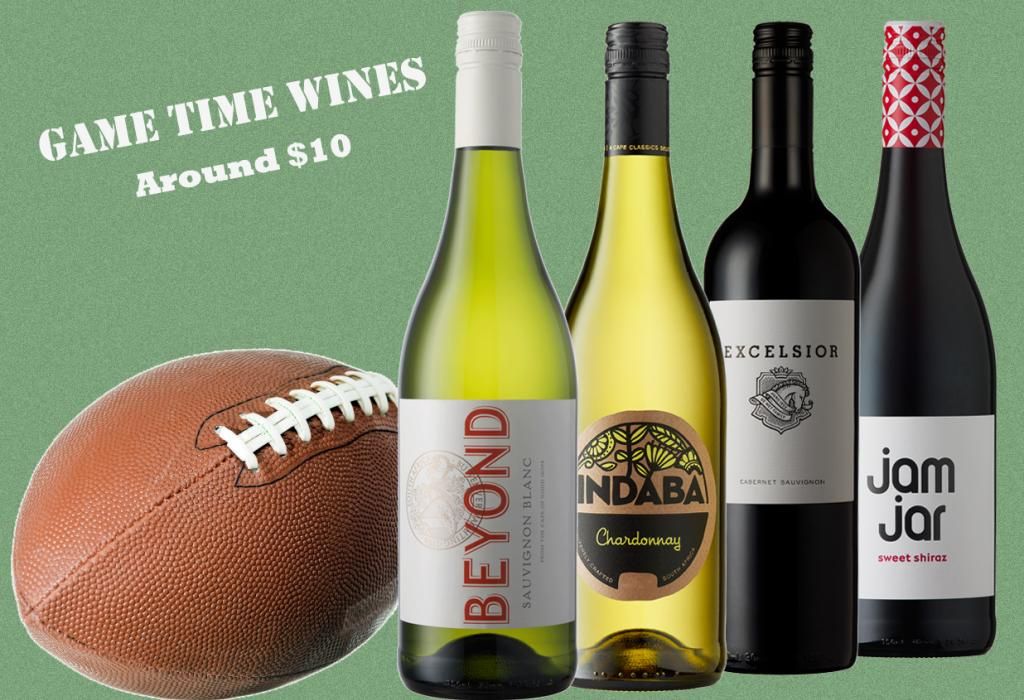 Who wants to break the bank while hosting family & friends for the big game? We certainly don't! Seek out wines that appeal to palates across the board while offering serious bang for the buck. Approachable and delicious, here are our party picks and snacks to match:
Beyond Sauvignon Blanc – Crisp and fresh, this mouth-tingling white offers tremendous value, known for consistently earning "Best Buy" accolades. Flavors of gooseberry and green pepper will complement and ease the heat from appetizers such as Cajun shrimp and hot wings.
Indaba Chardonnay – Prepare for any gathering with a versatile white that can team up with a wide range of foods. Indaba's bright apple and pear aromas fill the glass, and a touch of oak adds creamy depth. Reach for the potato skins or seven-layer dip while enjoying this wine.
Excelsior Cabernet Sauvignon – A fruit-forward red with just the right amount of oak – not too much, not too little – is a crowd pleaser. This bottling is packed with juicy flavors of blackcurrant and dark berries with subtle notes of spice. It makes for the perfect pizza party sipper.
Jam Jar Sweet Shiraz – A semi-sweet wine that offers flavors of ripe blueberries and raspberries with a hint of dark chocolate. The perfect balance between sweetness and acidity make Jam Jar versatile enough to pair with BBQ spare ribs and desserts.
The Short on Morgenster Wine Estate
January 28, 2014
Part of a 300-year-old wine estate in Stellebosch, South Africa, Morgenster is owned by Piedmont native Giulio Bertrand. Focused on producing world class Bordeaux-style wines, the estate brought on wine consultant Pierre Lurton, managing director of France's Château Cheval Blanc and Chateaux d'Yquem - names synonymous with highly regarded Bordeaux blends.The winemaking team's philosophy is to let every vintage determine the blend, crafting wines with an extraordinary ability to age.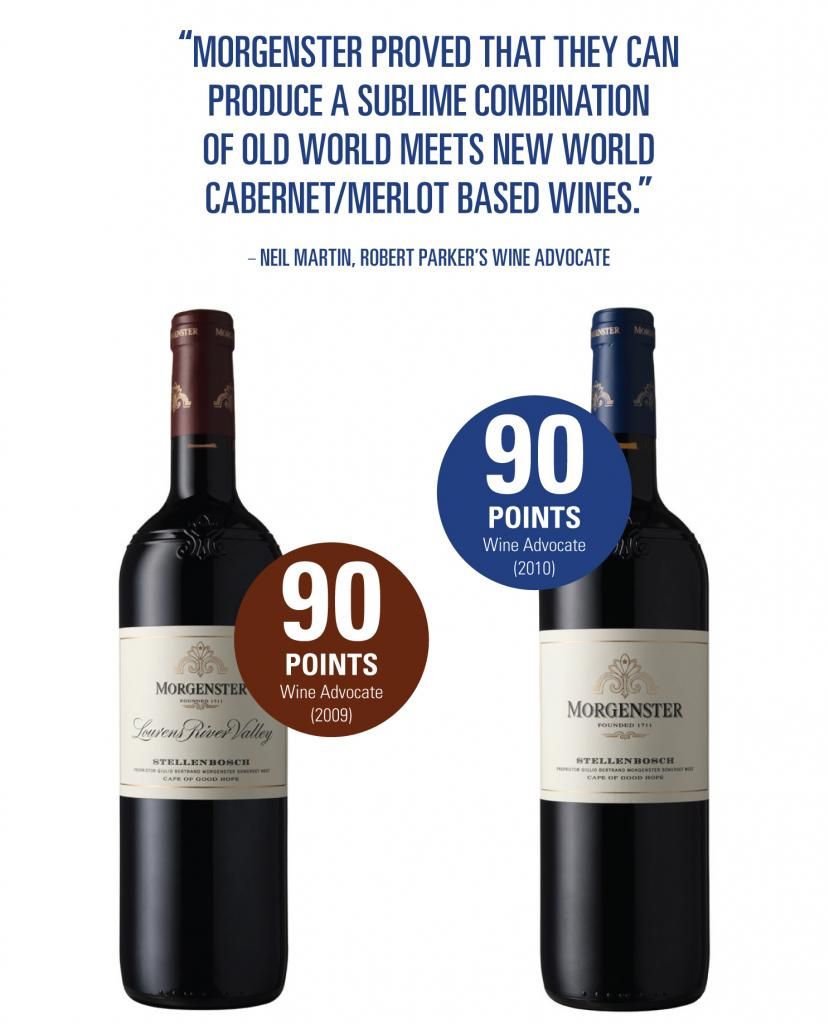 Hearty Dishes and Wines Under $20 to Complement
January 23, 2014

Chicken Pot Pie - This heartwarming dish filled with chicken and mixed vegetables in a white gravy, works wonders with a rich, yet delicate Chenin Blanc. Look to a dryer style such as Clos du Gaimont Vouvray to provide beautiful minerality and tingling acidity that play well with this creamy classic.
Mac n' Cheese - A childhood favorite, this decadent dish deserves a bottling that will not overpowering its simplicity. An oaked Chardonnay with gentle hints of honey is a harmonious pairing. Adding bacon to the mix? Seek a bottling that offers citrus, floral and smoky notes such as Bayten Chardonnay.
Mushroom Risotto - While enjoying a dish of winter risotto, reach for a varietal that will offer complementing vegetal flavors and herbal accents like Cabernet Franc. Raats Red Jasper is a Cabernet Franc-driven Bordeaux blend combining luscious dark berries, earth and cedar with significant notes of spice.
Beef Stew - A comfort food that has stood the test of time, beef stew is a go-to for blistery evenings. Balance the earthy and stewed elements with an approachable, yet full-bodied Cabernet Sauvignon. Glenelly Glass Collection Cabernet Sauvignon delivers excellent fruit structure, flaunting flavors of black currant and cherry, tinged with alluring herbs.
Cabernet Franc Q&A with Winemaker Bruwer Raats
January 16, 2014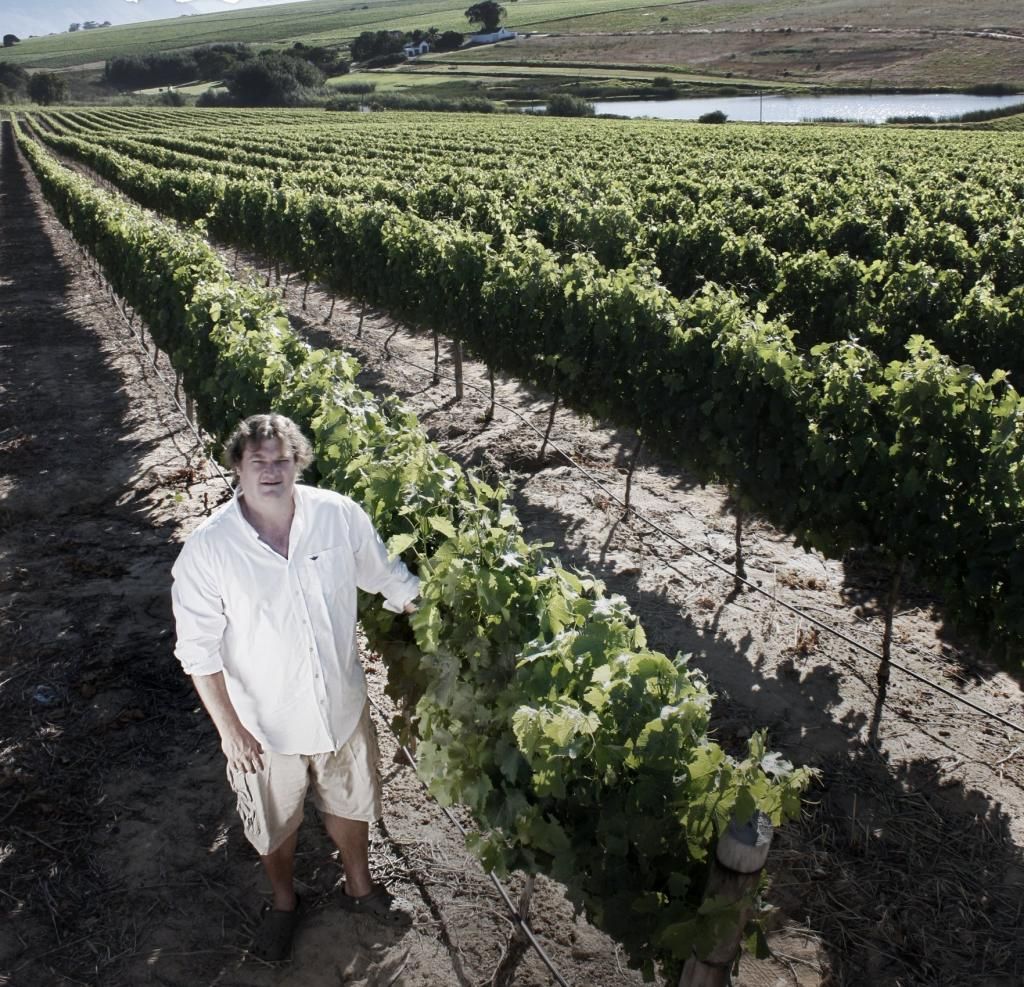 Q. Describe Cabernet Franc in one word.
A. Complex.
Q. What is it about the varietal that struck your interest?
A. Cabernet Franc has three dimensions on the nose: fruit, herbaceousness and spice. Most other varietals only have two dimensions and therefore Cabernet Franc have a very complex nose. Cabernet Franc is very structured on the palate with a velvet soft finish and purity of fruit and great acidity. What more do you want from a red wine?
Q. What are people missing out on if they don't drink Cabernet Franc?
A. Cabernet Franc offers a structure of Cab Sauv, the elegancy of Pinot Noir, and the spiciness of Shiraz, therefore you can have the character of three varietals in one wine.
Q. Pairing wise, what dishes do you enjoy with your Cab Franc?
A. It pairs well with fillet steak, roast lamb and game fish: tuna, swordfish or smoked salmon. Any herbs - rosemary, thyme, sage and chive - work very well in combination with the suggested meats.
Winemaker Bruwer Raats is focused solely on crafting world-class Chenin Blanc and Cabernet Franc. His boutique winery, Raats Family Wines, has quickly established itself as a New World leader in the production of these two varietals. The estate's exquisite Cabernet Franc and Red Jasper, a Cabernet Franc blend, show the heights this under-the radar grape can achieve in the hands of a master.
Big Reds: Winter Warmers for Cold Nights
January 10, 2014
Below freezing temperatures have us reaching for 'big reds' to keep us warm and cozy inside. Big Bordeaux-style blends, robust Cabernets, silky Syrahs and earthy Pinotages offer distinct aromas and flavors of the season; winter in a glass.
Rudi Schultz Syrah - Enchanting blackberry, pepper and black cherry aromas lead to a succulent mouthful of plum, earth and spice. Complex with well-integrated tannins, this seductive Syrah will impress palates across the board.
Thelema "The Mint" Cabernet Sauvignon - This stunning single vineyard Cab is bold and intense, yet remarkably pure and fresh. It boasts concentrated flavors of cassis, plum, and dark chocolate, accented by expressions of eucalyptus and mint that complement the winter wonderland outside.
De Toren Z - This sophisticated "Right Bank-styled" Bordeaux has a higher proportion of Merlot making this bottling soft and approachable. It delivers appealing aromas of dark berries and black currant with hints of spice and herbs. A lenghy finish will keep you satifsied all night long.
Kanonkop Pinotage - Crafted from the fruit of some of South Africa's oldest Pinotage vines, this benchmark wine is a true Cape classic. Alluringly, complex and distinctive, it boasts juicy layers of cassis and plum intertwined with hints of banana, mocha and smoke. Enjoy this bottling with friends and family around the fire, a true ambiance setter.
Quick Q&A with Winemaker Rudi Schultz
January 8, 2014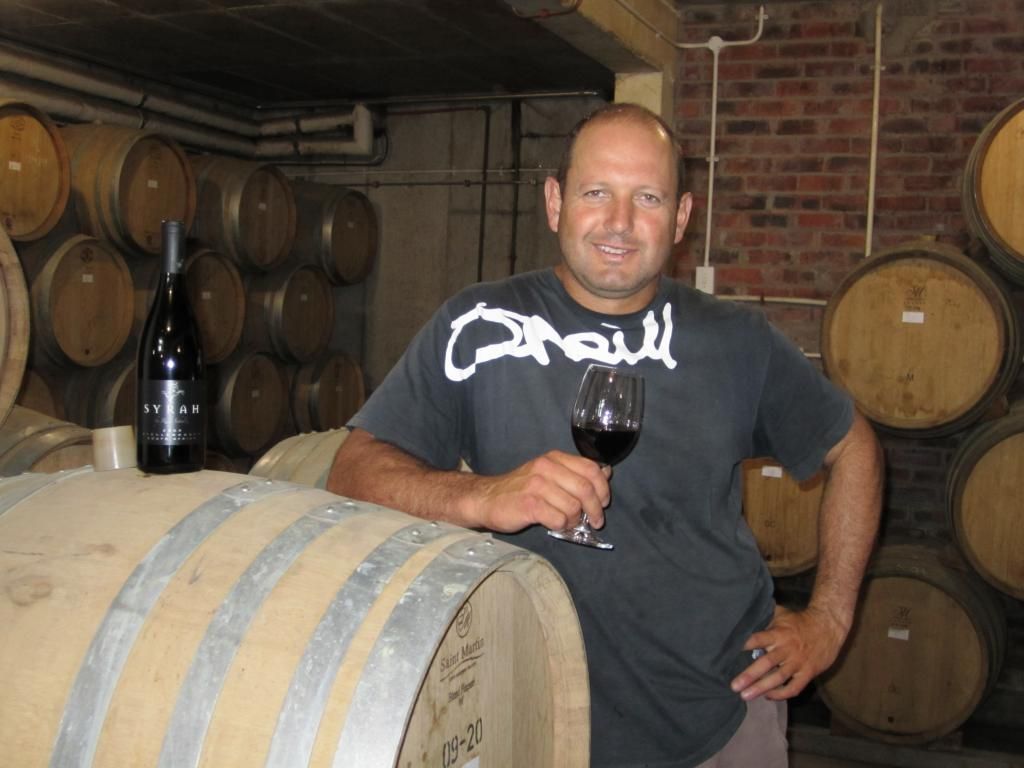 Why was Syrah the varietal of choice for your own label?
"Early travels and working a vintage in the Rhône exposed me to some of the top Syrahs and Syrah-based blends. This and the fact that my wife worked for the grower who currently sells me my grapes all led to this versatile and very rewarding grape."
Why should more people drink Syrah?
"I personally enjoy Syrah as it can really express its origins if planted in extreme sites. Syrah is also a fantastic food wine and can be paired with food from all seasons."
Rudi Schultz's eponymous label is a fruit-driven Syrah sourced from a vineyard in the Bottelary Hills ward of Stellenbosch and vinified at the pretigious Thelema Mountain Vineyards?, where he serves as winemaker. Hailed as a small production gem, his wine has earned a 90+ Wine Spectator rave in every vintage since its 2002 debut.